Every retail business will have its own way to succeed with the Omnichannel model.
Nowadays, more and more firms are participating in e-commerce, mostly SMEs (Small and Medium Enterprises). This shows that the coordination with eCommerce platforms is a common solution to the Omnichannel problems of the retailers.
Thus, choosing the best Omnichannel eCommerce platform, as well as the most effective software, is an important part to "rocket" your business right now!
Which Optimal Omnichannel Platform Technology?
The challenge for retailers is how to link the online and offline stores into a single channel. The answer lies in choosing a smart, flexible platform that is good enough to meet the criteria of the Omnichannel model. This choice is especially important when dealing with e-commerce challenges, making it crucial to have technology that can handle and overcome these issues for long-term success in retail.
3 best eCommerce platforms for Omnichannel Enterprises
So, here are the 3 best eCommerce platforms for Omnichannel Enterprises

1. Magento
Magento – a great platform for businesses wanting to grow fast.
Magento is the most popular eCommerce platform currently holding 30% of the global market share. This is an open-source platform once owned by eBay. Thanks to its strong development, Magento has emerged from eBay's "reach" and has become the dominant platform with its continuous development and change over the years.
Moreover, Magento is always considered as the most reliable platform for all business people who want to truly succeed with eCommerce.
Magento also has a very strong and dynamic community, including programmers and customers – people with the same desire to create their own style for online stores. But as they say: "The difference is a success", Magento's motto is the same. Unlike other platforms, you can easily expand your Magento store to meet the big goals.
Here are some key features of Magento:
Omnichannel E-Commerce

: With Magento, you can optimize and coordinate the customer experience across all channels

Multishop

: Operating different shops and domains on one interface means maximum flexibility for global deployment

Skalierbare Performance

: The modular cloud software makes it easy to expand functionality at any time

Flexible Pricing

: Set product prices by customer group. Additional options include bulk prices and flexible shipping costs

Simple Administration

: Manage and control several webshops on one, neatly arranged dashboard to increase efficiency

Optimal UX

: Shop content is neatly arranged in the navigation, which significantly improves the UX

SEO

: The integrated site- and search engine optimization allows you to improve your shop

Elaborate Cataloging

: Every product is assigned a unique ID number, thus making it easy to find products in the system – even those that are low in stock
And Magestore now is also offering solutions based on the Magento platform. With only one Omnichannel solution that integrates all modules that help your business growth and save the time to continue following bigger targets.

2. Shopify
Behind Magento is nothing but Shopify. The reason is simple because Shopify is easy to install, has a fast download speed and some advantages in optimizing your home page.
By optimizing for both SEO, Shopify also helps you optimize meta tags, automatically generate Sitemaps with customer support systems by chat, email and even phone.
Headquartered in Canada and established in 2006, Shopify is one of the pioneers of the global eCommerce revolution. After nearly 10 years of operation, Shopify today stands in the ranks of the big eCommerce world besides Bigcommerce, Weebly eCommerce, and Squarespace.
By 2016, a total of more than 300,000 websites are using the Shopify platform on a global scale. One statistic indicates that Shopify has brought in total revenue of over $12 billion globally.
Unlike other competitors, Shopify is pioneering the use of the latest and most advanced technology of the Internet to integrate into the website using Shopify. In addition, Shopify owns a team of experienced professionals with deep knowledge of eCommerce in particular and internet technology in general.
3. BigCommerce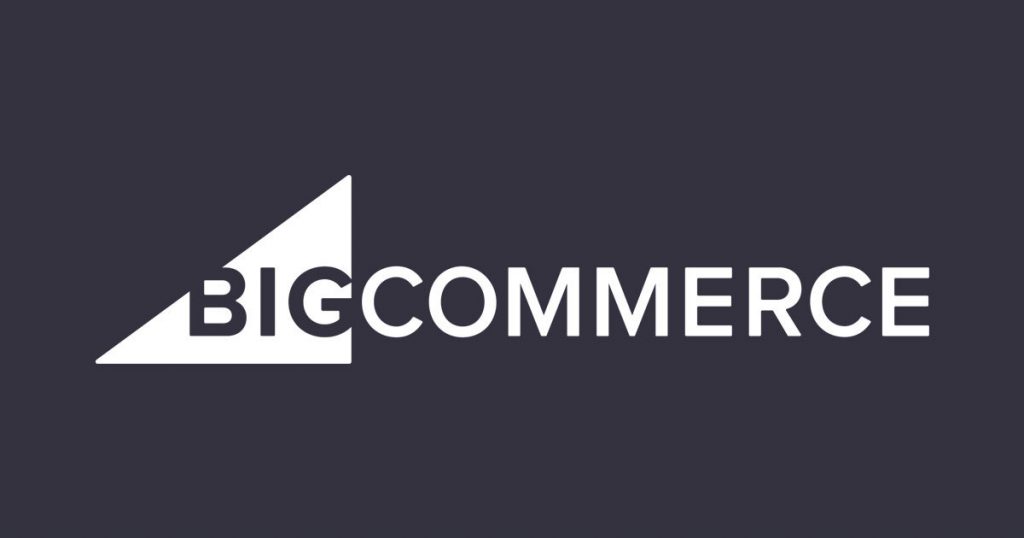 Quite similar to Shopify, BigCommerce offers more than the usual Shopify features with unlimited bandwidth and data warehouse.
BigCommerce also offers the features needed for an eCommerce site such as gift cards, product review, and tools to make your store a little more special.
After Magento and Shopify, Bigcommerce is also an easy place to create a store. The creation of the store is simple and clearly guided. Therefore, you can start the business within minutes. You can do the remaining configuration from the software, so you can do it at the right time.
After you have customized the configuration, you can also select the source code. However, for this, Shopify is easier.
Some key features of BigCommerce include:
Free and easy customizable interfaces
Safe shopping cart
Integration with major payment gateways such as Stripe, PayPal, Apple Pay, …
Many of the marketing tools include the ability to sell on multiple platforms such as the Amazon Marketplace,
Facebook, eBay, Pinterest, integrate with multiple email providers, and more
Inventory management, shipping, and return systems
Support multiple currencies
Integrated dropshipping & warehousing
This online store platform offers a clear endorsement of providing all the features needed to grow and promote your business. They provide the appropriate use packages for both large enterprises, which have existed for a long time and the brands are growing rapidly.
Omnichannel Software for Retail
A Retail Management System streamlines separate sales channels to provide seamless shopping experiences anytime, anywhere.
Top 5 Omnichannel eCommerce Softwares:

1. Contalog
Contalog's Omnichannel retail software aims to unify management tasks such as inventory management, inventory maintenance, order processing, shipping, invoicing, and customer information processing for many online and offline sales channels into a single control panel.
The omnichannel platform comes with an advanced analytics tool that helps businesses gather important user information, preferences, purchase frequency, etc. to provide personalized recommendations to attract the customer to shop more.
2. SAP Hybris
Omnichannel eCommerce solutions such as SAP Hybris have proprietary products for businesses to boost sales, marketing strategies, and their billing capabilities. Hybris is built on SAP and aimed at large businesses that sell across multiple online and offline sales channels. Using the Hybris brand can provide more targeted and relevant content to better connect the brand to customers.
3. Netsuite
NetSuite is an Omnichannel eCommerce software that meets B2C and B2B business needs. Netsuite offers intuitive device optimization experience that provides the resolve for customers to connect with the brand through any means. Netsuite's B2B solution combines B2B experience with B2B expectations, providing the best customer experience.
4. Intershop
Like SAP Hybris, Intershop is an Omnichannel trading solution provider, primarily for large scale businesses. It helps businesses brand themselves, market products, and plan sales strategies. Intershop is available in the cloud, and enterprise deployment models provide the flexibility to choose the preferred server environment according to business needs.
5. Goecart
Goecart is one of a number of multichannel eCommerce solutions that combine the online and offline sales of a business. Goecart also offers a set of management controls such as CRM, inventory tools, order processing systems to take care of management tasks related to the Omnichannel approach, mainly to fulfill orders.
***
Magestore
Omnichannel Retail Software and Magento POS system For Magento from Magestore can also be a good choice for your business. It's not just a module, it's more than that, providing a single set of solutions, including everything from A to Z what the business needs.
A Retail Management System streamlines separate sales channels to provide seamless shopping experiences anytime, anywhere. Built native with Magento ensures a hassle-free implementation!
In a nutshell…
"89% is the customer retention rate achieved by companies that adopt omnichannel customer engagement strategies." – Business2community. That said, the Omnichannel now plays an important role for businesses, especially for small and medium enterprises.
There is a lot of information on the Internet that is useful to you so you can refer to starting an online business in a minute. This leads to many options for your store and they also have many different points. Also keep in mind after starting an online store you will also need to have a good Magento POS system. It is important to see which solution is right for you.
—
Related Posts:
» Why Magento is the best platform for Omnichannel Retail?
» Top 25 Best Omnichannel Retailers and What to Learn from them
» Free 63-page Guide to unlock the secret of Omnichannel Retail