One of retail's biggest challenges is getting more store productivity and profit while ensuring high customer satisfaction. In our 10 years of working with retailers and listening to their concerns, we've found many streamlined solutions to reach this goal. One of them is implementing In-Store pickup on POS.
What are the benefits of in-store pickup on POS?
In-store pickup on POS at another time and location creates a great experience for the customers when they interact with your store.
Imagine this: your customer orders a birthday cake and wants to pick it up at another store near the restaurant, 30 minutes before the party. How will you react in this situation? Inform the customer that "Sorry, please pick up here and now because our system can't record your requests?"
This is quite a negative experience for customers. They may switch to another supplier and never return.
Accenture's 2013 Global Consumer Pulse showed that 66% of customers switch companies due to poor service. A Zendesk's survey also showed that 95% of customers share bad experiences with others.
To avoid this, you can offer flexible location and time pickup options. Staff should be able to create sales orders quickly for multiple stores in the system. At the same time, customers can personalize their experience with the choice they prefer.
For example, you sell across multiple channels such as phone or social media. When your staff receives these orders, they will need to find the most suitable store and process orders quickly. Instead of switching account across stores or contacting each store owner, they can use a POS system that allows later pickup at different locations.
What is Magestore's solution for in-store pickup on POS?
To check out with Store pickup on POS, you will need Magestore POS first. We can tailor your POS solution directly for store pickup. With a customized POS, the admin can set up store information in Magento backend, and the POS will display in-store pickup as a shipping method in the checkout page. After that, sales staff can select any store to pick up according to the customer's preference.
1. Configure the schedule for each store in Magento backend
Go to

POS

>

Manage location

> Select a location>

Location schedule
It's necessary to inform customers about the store's working time so they can schedule and pick up the product accordingly.
2. Apply in-store pickup on POS
To understand more about how the proposed solution works, please take a look at the charts below.
Step 1

. The staff creates the order on POS by adding items to cart and selecting customer.

Step 2

. In the checkout page, they can select store pickup as a shipping method
Step 3

. A new popup will show two shipping options: Pick at Store & Deliver. The sales staff can select Pick at Store. They can choose

Pickup date

&

Time range

, and add

Pickup comment.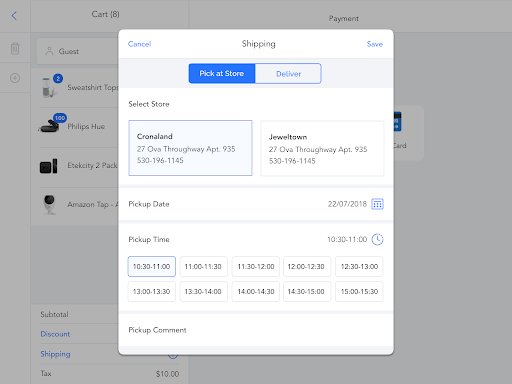 On the POS, you can view information of all physical stores, including store name, store address, and available hours each day. Based on this information, the staff can consult the most preferable store and time to pick up the items. In addition, once the order is completed, the POS will deduct the available quantity in the store selected.
Step 4

. Staff can create a

shipment

in Magento backend when the customer picks up the items.
Implement the solution with Magento & Magestore POS
Here's a quick summary of how to implement in-store pickup solution with Magento and Magestore POS.
Step 1

. Install Magento.

Step 2

. Setup Magestore POS (Compatible with

Magento 2.2 & 2.3

).

Step 3

. Implement the customization.

Step 4

. Train your staff on how to use the system to select in-store pickup as a shipping method.
You can start your offline business with in-store pickup now.
Conclusion
In a nutshell, in-stock pickup at a later time and location can give the customer a better shopping experience. Once you've set up location information, you can choose store pick up on the POS screen and pick a date and store.
If you are interested in a solution to pick up from another location, feel free to get in touch with us. Our experts are always a pleasure to listen to your concerns.