When customers come into a store to make a purchase, there's nothing more disappointing than finding out the item isn't there. When this happens, many customers choose not to wait:
17% of customers will use their mobile devices to make an immediate purchase at a competitor's website,
37% purchase the item from an online retailer when they get home,
35% go looking for the item at a different store. – DigitalCommerce360
So chances are, if you are unable to complete their order, they may never return; or even worse, you will lose sales to competitors.
This doesn't have to happen.
By offering customers the opportunities to browse & shop a wide range of products that are either out of stock or not sold in-store and fulfill them instantly, retailers can secure sales that might be lost. This is known as endless aisle.
With this concept, your in-store staff can now effectively help shoppers purchase the out of stock items elsewhere by creating orders for multiple stores via a Magento POS system.
In this article, we will guide you on how to deal with out-of-stock situations by setting up an omnichannel POS system (and creating a smooth endless aisle experience!)
The pros of Endless Aisle strategy
The concept of endless aisle can be explained in simple words: manage inventory visibility across sales channels.
First, let's examine why endless aisle is perfect for retailers.
Increase sales/Drive incremental revenue
Access to the inventory of multiple stores/warehouses helps negate lost sales, particularly if the fulfillment options can match customer expectations, such as free delivery, click & collect at a later date, or from a store close by. If a retailer can get any items from other stores, or a central warehouse, they have a great opportunity to still win sales this time and again in the future. Store staff are also more proactively looking to sell using the technology if sales are still attributed to the store.
Not only that, endless aisle can increase incremental revenue. For example, retailers can provide ordering in-store functionality via staff armed with tablet devices. Their staff can up-sell or cross-sell items face-to-face with the customer on the shop floor and drive more revenue.
Improve customer satisfaction
Anything that enhances customer experience when they are shopping from a retailer has to be a good thing. By increasing their ability to match customers' expectations, retailers have more chance of getting their business and less chance of disappointing customers.
For example, if the item the customer wants is not available in their local store, they could still see something similar in the same color, or try something similar in the same size, before ordering in-store, and leaving with a positive impression of their experience, and an increase in conversions/revenue for the retailer.
Hold less inventory
If a retailer opts to dropship the bulk of items directly from their suppliers, it puts them in the enviable position of not having to hold vast amounts of stock at considerable expense. This takes some of the storage, logistical, and financial burdens away from the retailer. This is one of the reasons why companies like Amazon have been so successful: they can offer such a vast range of products without holding much of the stock themselves.
And the cons…
Implementing a complicated 'endless aisle' system isn't easy and requires constant coordination of technology, process, and people. If your business is rapidly scaling, you should choose a platform that already supports managing multiple stores.
Don't worry. You're close to the solution for all of this.
Prepare sales channels before hitting the solution
To solve the complicated problem and get all those benefits above, you can take advantage of Magento 2.3 platform (with the latest Multiple Source Inventory (MSI) feature) and a little help from Magestore customization team.
By using MSI, retailers can:
Assign products and their quantities to each fulfillment source (e.g. warehouses, stores, distribution centers, etc);

Track inventory at each of these sources;

Create rules to prioritize and control which inventory sources are used to fulfill orders for each website;
For the customers using Magento, the available version Magento 2.3 can be the perfect solution to relieve the stress of handling multiple inventory locations at once.
However, to handle the process of fulfillment at physical stores and complete the whole endless aisle experience, MSI is not enough. The solution we provide will be customized directly on the Magento native PWA POS.
Specifically, you will need:
An eCommerce website using Magento 2.3 and customized MSI feature.

A POS that links to Magento website to fulfill orders at physical stores.
You can see the model below to understand more about Magento 2.3 and how Multi-source inventory (MSI) works:
The process of creating in-store orders for multiple stores on POS
After setting up the omnichannel system for your retail operation, your staff at physical stores can process the following in-store checkout flow: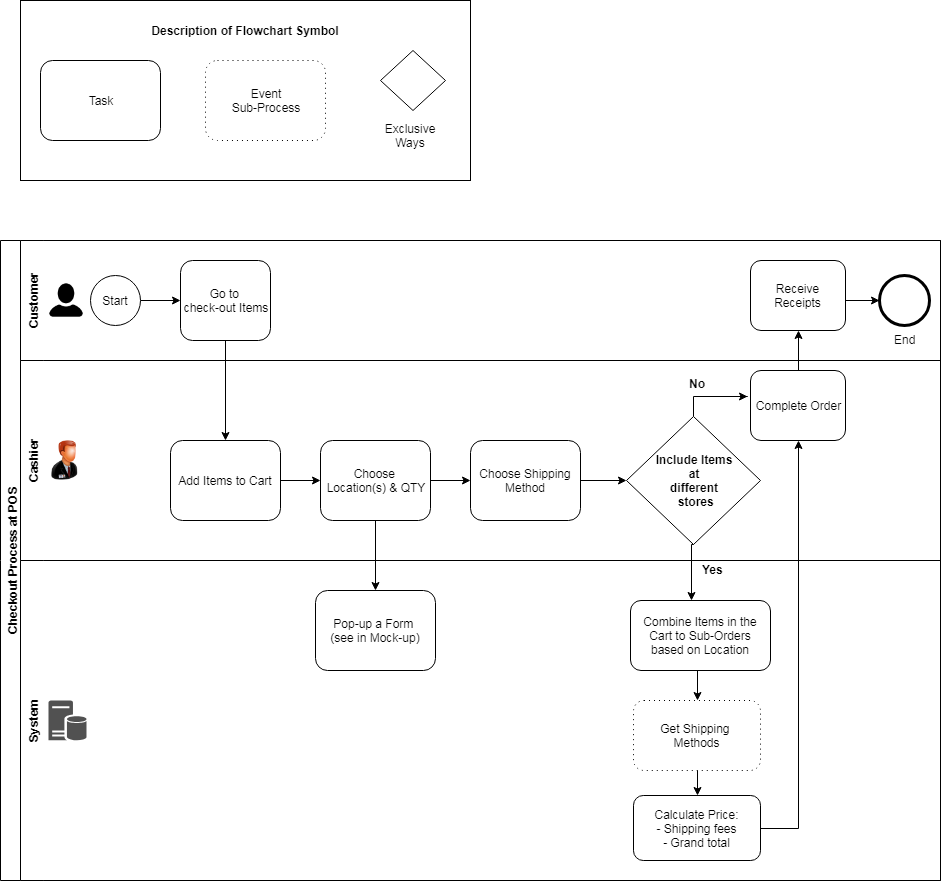 The process of creating in-store orders for multiple locations
Since the technology does the hardest part, the process of creating orders for multiple stores is now a lot easier as you can see above. More specifically,
Customers ask about check-out items. They can be available/out of stock at the current location and available at other stores.

Cashier will add these items to cart.

And then choose Location and Quantity. In case the merchant has many physical stores, 'Choose location' feature can use an algorithm of finding the nearby location(s) (such as in the same city…). This will make the customer shopping journey become more convenient and rewarding.
Choose location and quantity in a customized POS from Magestore
After that, the cashier will choose the shipping method.
NOTE: Customer can choose to pick up items at the current location (the location where the items available will need to pack and ship to where the location created). Pickup at store where the items are available. Or ship to customer's home address.
Choose shipping methods
Before the cashier place and complete the order, there are two options that can happen:
If the cart contains only items at the current store, go complete the order and print receipt.

If the order contains/only has items from other stores, then the POS system will combine items in the cart to sub-orders based on location.
After placing the order, the staff at the chosen location will receive the order right on the POS screen. Everything will be processed like a normal check-out order.
Implement Endless Aisle on Magestore POS
To sum up, the whole process to create a rewarding endless aisle experience for customers with Magestore POS can be described as below. If you're interested in the solution we provided, here are the steps you need to follow to make everything work:
Setting up an online website using Magento version 2.3 (If the customer is not using Magento 2.3)

Configuring Multiple Source Inventory, including:

Source(s)

Stock(s)

Import inventory to the corresponding source(s). 

Setting up POS for each physical store

Linking POS to stock/source

Setting up Related stores (nearby stores, such as in the same city..)

Implementing the customized feature of creating orders for multiple locations/stores on POS. Please note: MSI feature from Magento doesn't support this solution entirely, you still need our help to customize it.

Training staff (sales, cashiers,…) how to use the system and how to up-sell and cross-sell during the in-store sales process.
And you're done!
Conclusion
In a nutshell, endless aisle can be done in so many ways. But being able to see stocks updated across all channels at multiple locations in the core thing that every merchant should understand to implement a good endless aisle system. We at Magestore always want to deliver the most cost-saving and most effective solution for merchants worldwide to solve your out-of-stock situations. If you're interested in the POS solution above and wish to know more about it, feel free to ask more details here.