"Turn the device you have into the one you want".
If you're a fan of Apple products, this headline might sound familiar to you. This is Apple store's trade-in program – where customers sell their eligible device(s) for credit toward their next purchase, or get an Apple Store Gift Card they can use any time.
Sounds brilliant, right?
Apple isn't the first company selling electronic stuff to offer trade-ins for old gear. Amazon, Best Buy, and Verizon all offer either store credit or cold hard cash for the retired gear. Offering cash for trade-ins isn't limited to smartphones. Take GameStop, which will take everything from old video games and consoles to smartphones and tablets.
As technology rolls out with greater frequency, customers are looking for ways to future-proof their purchases as well as be environmentally sensitive. Trade-in program, because of that, can be a perfect solution to make the customer more satisfied and engaged with your new products.
Let's talk about benefits retailers will get from running an electronic trade-in program.
Instead of letting customers throw the used products away, retailers can buy it back from them and get the chance to resell the trade-in items.
Both customers and retailers are helping the environment by extending the useful lifespan of products that have value in the secondary electronic market (recycling), as it helps keep the old gear out of landfills.
By running trade-in program, you can constantly increase customer engagement to your brand. It helps speeds up customer shopping cycle and boost sales, obviously.
But does trade-in program concept really work with your business?
How can you make the best out of it?
Steps to set up an electronic trade-in program that works with your retail business
Every big electronic brand sets up their own trade-in campaign with different entry rules and policies. They were all so successful with the programs that they gradually expand the scope and applied areas to increase the benefits.
Learning from top brands can save your time and lower the risk you might encounter. Do you wonder how they can set up an influential program that every customer wants to be part of? Let's find out some main steps to make your dream buy-back campaign happen from scratch:
1. Listen to customer opinions to identify the demand
Listening may be a passive process, but it also leads to active improvements for your business. Do your customers often ask about trading old electronics for a new one? If yes, take it into consideration. Your customer drives business innovation so by taking this chance, you can fulfill customer's needs and turn them into regulars from time to time.
Do your customers want to trade used items purchased from other stores to buy your products? Record their feedback and analyze it. If you see the demand is high, it means there is already a potential market that you can utilize to sell more.
2. Assess your campaign's scope/possibility
Once your team has chosen trade-in campaign, it's time to get down to the nitty-gritty details of planning it to see if it's possible to run and define the scope of the campaign.
There are a few important questions to ask your team:
Do your electronic products have long-term/short-term value?
What is the target customers for this trade-in program?
The problems which can be solved by opening the campaign? What is the risk you might encounter?
Does it bring any benefits to your business?
What is the potential cost of your business?
Once you have a clear sense of your goals, it is critical that your team assesses its organizational strengths and weaknesses.
What resources are currently available to your store? What resources are you lacking? In this assessment, be certain to consider all types of resources (money, volunteers, software, skills, time, allies, reputation etc.).
What is your current business system? What platform or software are you using right now to handle inventory, promotion, checkout at your online and offline stores? Before adding another business process on a day-to-day basis, know what your system is capable of. Especially, if you're handling inventory by management software, be sure that your trade-in program integrates smoothly with the sophisticated system.
3. Research other trade-in models in the electronic industry
Finding out what a well-known brand/competitor is doing wrong is just as important as identifying what they are doing right. You as a retailer can learn what works and what doesn't. Some criteria to analyze:
Do they accept trade-ins online (e-commerce website) or in store?
How do they set entry rules (Eligibility requirements)?
How they estimate trade-ins value?
Do they accept used products from other brands or not?
Payments (give back cash or rewards points, gift cards)
Shipping (if necessary)
Write them down as detailed as possible. You can learn a lot from their running campaign.
Let's take Apple for example: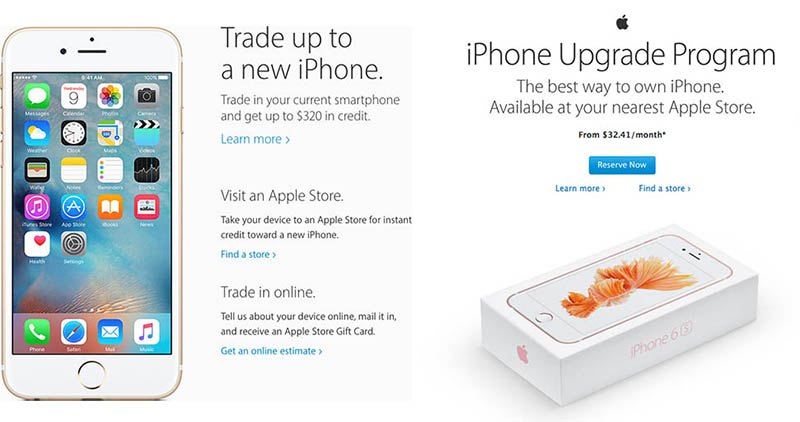 Apple TradeIn's terms and conditions apply which are detailed below:
Target customers: You must be at least 18 years old to be eligible to trade in for an Apple Store Gift Card.
Scope: Not all devices are eligible for credit.
Payments are based upon the received device matching the description the seller provided when the estimate was made.
Online and in-store values may vary.
3. Plan your own electronic trade-in program
You've set your campaign goals, assessed your capabilities and chosen your targets. Now it's time to devise your campaign strategy. Your strategy should ideally influence your target customer, so you can achieve your goal and garner support from the general public. That's why listening to your customers in the first place is very important.
For example, online trade-in will be difficult as you need to build a whole re-selling system including price estimation and accept trade-ins request online. It depends on your capabilities. You can do an in-store trade-in (on POS) before expanding it to the online platform.
To be able to run an electronic trade-in program at the physical store, you'll need to prepare:
Campaign Message: Brainstorm a theme/message that will benefit the campaign and create a strong impact on the target audience.
Program entry rules: This is important and depends on your business and product types.
Human resources: Determine if you have the capacity/human resources available to put on the program. Who will be the ones to receive and estimate used items value?
Price evaluation process: Almost everything loses value after the original purchase. For some items, particularly cars or electronics, the market value takes a nosedive once the item is no longer new. So, evaluate the items in terms of the original price and condition to make sure you can get benefits from those trade-ins.
Promote your campaign: Make sure that your customers are informed about the campaign and know how to join.
4. Manage inventory for trade-in electronics
If you use software to handle inventory, you need to distinguish your new products and your purchased items from customers in your system. SKUs and prices are obviously different though they can be the same model or size.
Other processes can be flexible, but when it comes to tools and system, it needs to be as precise as possible.
If you plan to run the program at store, then you might just need a POS that synchronizes with your inventory management system and allow you to take reselling items from customers.
5. Launch and receive feedback
After all the preparations are in place, try to set a timeline and see how it's going. Follow-ups is an important job. Make sure you take a look back regularly and fix what needs to improve.
Conclusion
The Electronic Trade-In Program is a great new way to increase sales and traffic in your retail store. With trade-in, retail stores can buy back used items from customers with good price. You can also issue gift cards or store credits to the customers and keep the revenue within the store. However, to make the most out of the program, you'll need to research both customers and other companies to know what works and what doesn't for your business.