Shipping is a very essential part of every eCommerce business. To provide your customers with an effective and timely shipping strategy, you can use several Magento extension. Finding the right extension for your store can prove to be overwhelming. Thus, in this post, we have listed top 10 Magento shipping extensions which will help you enhance Magento shipping methods and rules.
Using these, you can calculate shipping rates, detect customer's location and adjust shipping. Besides, you can also create shipping restrictions based on any attribute or build a dropshipping strategy and more.
1. Product Matrix Shipping Extension
| | |
| --- | --- |
| Provider | ShipperHQ |
| Edition | CE & EE |
| Compatible with | Magento 1 |
| Price | $380 |
This Magento shipping module gives you the flexibility to calculate shipping rates based on your business needs. You can define your shipping rates using any combination of destination, price, quantity, weight and customer group rules. It enables you to create shipping groups to categorize your products and define shipping rates. With this Magento shipping extension, you can tailor your shipping rules to suit your unique product set and customer base. This is one of the most popular rates extensions for Magento stores worldwide.
Here are main features of Product Matrix:
The flexible multiple table rates extension
Easy customization for shipping rates based on any combination of destination, product, subtotal, quantity, weight or customer group (e.g. wholesalers) rules
Create "shipping groups" to define shipping rates for different product types
Calculate shipping as a percentage of cart subtotal
Vary the shipping options displayed to the customer according to the products in the cart
Support for tax inclusive prices
2. Store Pickup Module
| | |
| --- | --- |
| Provider | Magestore |
| Edition | CE & EE |
| Compatible with | Magento 1 & Magento 2 |
| Price | contact |
Store Pickup method is the best way to create a win-win situation for both store and customers. It's definitely Buy online – Pickup in store. Use Store Pickup module lets customers select their preferred store to pick up orders without paying shipment fee. Just click and connect to their favorite store for their favorite products. It's a much more convenient shopping experience for both eCommerce and physical store. Several Store Pickup module is well-integrated with Magento POS to make your customers happy with free shipping fee.
Here are main features of Magento Store Pickup:
Create many stores, set addresses and opening time for each store
Customers can select nearest stores at appropriate time
Connect to Google map to locate store's address
Integrate with payment methods
View details of a selected store
3. Magento Shipping Suite
| | |
| --- | --- |
| Provider | MageWorx |
| Edition | CE & EE |
| Compatible with | Magento 1 & Magento 2 |
| Price | $299 |
The module is capable of overwriting shipping rates set by such shipping provider as UPS, DHL, FedEx or any other local provider you use. With this Magento extension, you can automatically detect customer's location (using MaxMind technology) and adjust shipping accordingly.
Also, with Magento Shipping Suite Extension you can add your own new shipping method and easily configure it to suit your business needs.
Here are main features of Magento Shipping Suite extension:
Creating shipping zones
Assigning shipping zones to products, categories and shipping methods
Auto customer location detection
Setting flexible Magento shipping rules and restrictions
Accurate Magento shipping rates
Overwriting and re-calculating the rates set by popular shipping providers
Adding custom shipping method and Shipping Cost Calculator
4. Shipping Restrictions
| | |
| --- | --- |
| Provider | Amasty |
| Edition | CE & EE |
| Compatible with | Magento 1 & Magento 2 |
| Price | $159 |
This Magento Shipping extension enables you to restrict particular shipping methods or block whole carriers by a variety of flexible condition combinations such as product names, brand, country, in fact, any attributes. You are allowed to put shipping restrictions based on customer group, weight, order total and other shipping parameters.
Here are main features of Magento Shipping Restrictions:
Block separate shipping methods or whole carriers.
Create shipping restrictions based on an address line, shipping country or region.
Restrict shipping methods by product and customer attributes.
Limit shipping by cart subtotal, items quantity or weight.
Restrict delivery on particular weekdays and time.
Create coupons to trigger shipping restrictions application.
5. Shipping Rules
| | |
| --- | --- |
| Provider | Amasty |
| Edition | CE & EE |
| Compatible with | Magento 1 & Magento 2 |
| Price | $189 |
Magento Shipping Rules allows you to modify live shipping rates: deduct, surcharge or override rates, provided by carriers. With this extension, you can generate multiple shipping rules to recalculate and overwrite rates by popular shipping carriers like UPS, DHL, FedEx and many others.
Here are main features of Magento Shipping Rules:
Shipping rules based on order, product and customer attributes
Modify rates both for the whole cart and a single product
Set up shipping based on customer groups and store views
Change delivery prices both by the flat amount and by percent
Provide correct rates for LTL freights
6. Marketplace Table Rate Shipping
| | |
| --- | --- |
| Provider | Webkul |
| Edition | CE & EE |
| Compatible with | Magento 1 & Magento 2 |
| Price | $199 |
Table Rate Shipping is a Marketplace Add-on for Magento. It lets you create custom shipping methods for your customers. With this extension, you can upload a CSV file or enter the shipping details-region, zip code, price, weight directly. The shipping rates will be calculated using product weight, region, country, state, postal code and many other options. This module is used for order confirmation, tracking number from seller and print invoice & shipment slip.
Here are main features of Marketplace Table Rate Shipping:
Completely dynamic order confirmation with tracking code
Work efficiently with almost all Magento versions
Buyer will receive notifications from the seller when seller ship the product
Shipping – freight price calculating based on CSV entered by seller/vendor
Invoice print management from both seller and vendor panel
Tracking ID management from vendor panel
7. Shipping Table Rates
| | |
| --- | --- |
| Provider | Amasty |
| Edition | CE & EE |
| Compatible with | Magento 1 & Magento 2 |
| Price | $199 |
Shipping Table Rates is a feature-rich module. This Magento shipping module is developed to help you easily generate custom table rates and enhance the whole shipping management process. Shipping Table Rates enables you to create an unlimited number of shipping methods: multiple flat rates, table rates, etc. Besides, you also can calculate shipping costs based on combinations of address, weight, price, and quantity. Easily import rates using a CSV file or edit them manually.
Here are main features of Shipping Table Rates
Specific dates for a product or a group of products
Rates based on product type, e.g. for extra large, toxic items
Flat and percent rates; quantity and weight-based rates, etc.
Import and manual editing of shipping rates
Show estimated delivery dates
Full support of Magento discount functionality
8. Multi Flat Rate Shipping Per Product
| | |
| --- | --- |
| Provider | M-Connect |
| Edition | CE |
| Compatible with | Magento 1 |
| Price | $99 |
This Magento product shipment module enables you to set up the specific flat rate and calculate flat rate shipping per product. You can also manage custom shipping cost for worldwide or selected country. There are two method types – per order which will calculate the shipping based on Max / Min configuration and per item that will calculate the shipping price per product on cart page.
Here are main features of this Magento shipping extension:
Set up specific flat rate and expedite flat rate shipping for all products in your product catalog.
Set up default shipping flat rate and expedite flat rate per product. It is applied to all products where shipping rate is not defined (left blank for a particular product).
Set up individual flat rate and expedite flat rate shipping for each product.
Allow these shipping methods for specific countries.
Compatible with Bundle products, Configurable products, and other product types.
Display error message functionality where a method is not applicable.
9. Shipping Costs Based on Distance
| | |
| --- | --- |
| Provider | MagModules |
| Edition | CE |
| Compatible with | Magento 1 |
| Price | $65 |
This Magento shipping extension will help you calculate the exact shipping price based on the distance from store fast & automatically, using the Google Maps API. Just need to enter the shipping rate, your address and a maximum or minimum, a new shipping method is made for you. Shipping Costs Based on Distance extension is perfect when you have to deliver some big things!
Here are main features of Magento Shipping Costs Based on Distance
Enter a maximum distance to disable the extension as soon as the distance exceeds your maximum
Calculate your own shipping cost, choose between a fixed price or per metric
– Enter a start price
– Price per kilometer or mile
– Minimum price
– Maximum price
– You can round off the price to decimals, hundreds and thousands!
Uses the default currency
You can enter multiple ranges with different metric prices
Select the shipping method for applicable countries
Use with unlimited store views
Onestepcheckout compatibility
You can use the extensions with unlimited products and customers
Easy 2-minutes installation
Set a Google Maps API whenever you have more requests then 2.500 per day
Works Worldwide!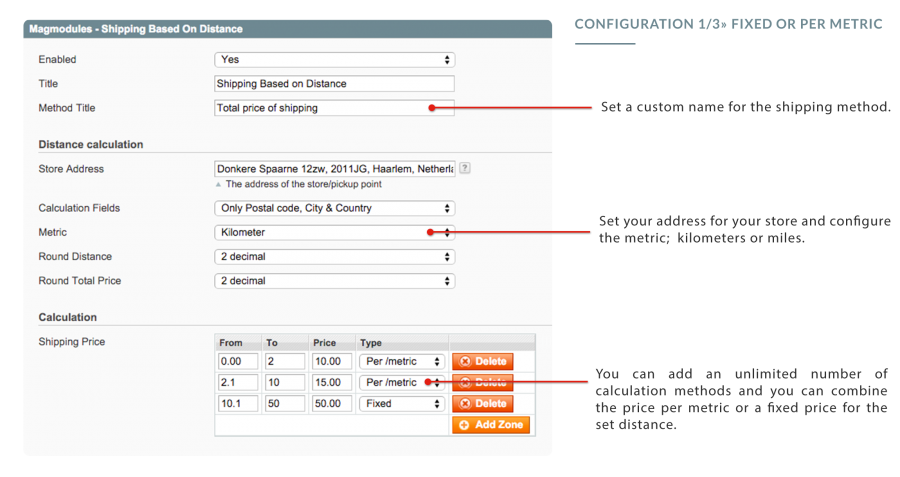 10. Drop-shipping Module
| | |
| --- | --- |
| Provider | Magestore |
| Edition | CE & EE |
| Compatible with | Magento 2 |
| Price | contact |
Drop-shipping is a special fulfillment method in which you don't keep goods in stock. Instead, you transfer customer's orders to the wholesaler or manufacturer, who delivers goods directly to customers. However, with this drop-shipping fulfillment method, you have to work with other merchants and so, you need a robust inventory management system that allows you to manage your stock from multiple warehouses.
Magento drop-shipping module enables you to simplify the process of sending and managing Magento dropshipping requests to suppliers. Get the simplest Dropship process ever within only 3 steps while keeping track of its status via notification emails. Magento Dropship is proven to be a helpful function to enhance any Magento order fulfillment process by having suppliers ship products to customers directly, cutting a lot of waiting time and satisfying shoppers.
Here are main features of Drop-shipping:
The simplest Dropship process ever (3 steps only)
Suppliers can create a shipment, cancel request right on the frontend
Keep track of Dropship process via notification emails
Comprehensive order listing pages both in admin and supplier view
What's next?
Getting a Magento shipping extension is only the first step to becoming a multichannel retailer. It is important to plan, understand your goals and work towards the most cost-effective shipping. If the shipping costs are too high, you can lose potential customers. Provide your customers with flexible shipping options is the best way to help your store reduce the number of abandoned shopping carts. Besides, another big challenge for eCommerce retailers is inventory management. Thus, it is necessary for you to handle it and make the entire process perfect.
Check out our FREE e-book about the top 4 eCommerce inventory management challenges that all retailers will get.
Estimate when you need more stock
Learn to quickly get rid of deadstock
Stock-take/ audit in an effective way
Organize your stock & warehouse for less mistakes
Get FREE E-book now!
---
About Magestore & Magento Retail Solution
Magestore is a solution provider that is dedicated to enhancing Magento retailers.  With 8+ years in Magento and retail market, we offer the best solution for small and medium businesses including inventory management, point-of-sale, store-pickup, dropship, order fulfillment, loyalty programs and more.
Magestore is willing to help you with your eCommerce shipping and fulfillment. You will get the best automation system at the most competitive price.
Talk to us to get the complete solution for your eCommerce store or visit www.magestore.com for more details.