33.28% of customers come back to Magestore to purchase One Step Checkout after buying Social Login, recent research has shown. This is not even included the rate of purchasing these two extensions together in one order.
What I would like to point out here is how well Social Login and One Step Checkout work together to help your web-store avoiding the increase of drop-off rate & bounce rate onsite.
You can ignore the data that we recorded and start to dig deeper by reading the example of using the team of two from one of our customers – AnyProtein.com.
As one of the retailers providing dietary supplements, AnyProtein.com extremely focuses on helping their customers to achieve specified physical goal and improve body strength. Based on the purpose of using dietary supplements, they categorized their products into 05 main sections: Muscle & Strength, Weightloss, Mass Gain, Lean Muscle and Well-Being.
AnyProtein.com, as one in 33.28% of customers we mentioned above, had continued to buy One Step Checkout from Magestore after installing & testing Social Login on their site.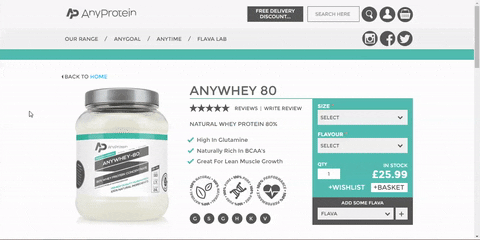 What's the reason? Can you guess? Apart from using Social Login to help customers share their products conveniently on social channels like Facebook or Twitter; Any Protein thinks they can optimize even more with the checkout process.
With One Step Checkout, AnyProtein.com presents checkout process on one page with clear and simple structure. Information is not just listed, they are categorized into 04 main sections Billing Address, Delivery Method, Payment Method and Order Review.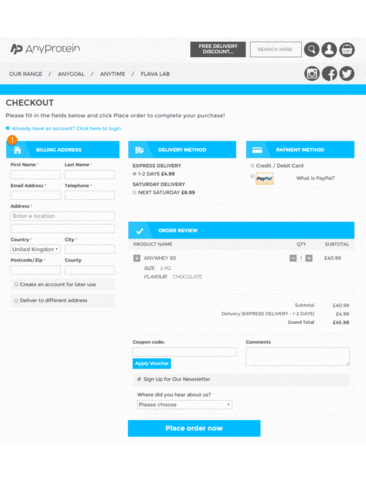 Customers came that far and they say "No" to your store just because they have to sign up a new account? It's not gonna happen in AnyProtein.com's case as they offer almost all option for customers to log in for checkout.
Instead of click on Create New Account, customers can easily sign in using any social account in less than a minute. That way, AnyProtein.con not only packs up checkout process in one single page but also reduce the time of complete the information to place an order.
See? You can also be able to manage drop-off rate when customers checkout just like AnyProtein did. You have already had Social Login on your hand, so, simply purchase One Step Checkout and see how the cart abandonment rate stops bothering you 😉
Purchase One Step Checkout for Magento 1 Purchase One Step Checkout for Magento 2